Group Benefits that Ensure You Attract the Best Talent
Customized Group Benefit packages that attract the best talent, help retain them, and saves your company money.
Request a Consultation
Group Insurance Benefits
What Can VOSS Do For Your Business?
For most companies, employee benefits are typically the single biggest expense after payroll. Group insurance plans can change dramatically, with more high-deductible, HSA compatible plans replacing traditional HMO/PPO plans. Without proper planning like the customized solutions VOSS can provide, it can be easy to make a mistake that ends up costing your business money, and letting down employees who rely on you to offer them the best possible coverage.
VOSS uses innovative, cost-effective solutions to create employee benefits packages that boost employee morale, help attract and retain top talent, and most importantly save businesses money.
The reason we can do this is because we can offer solutions to our small and medium business clients that are normally only available to large businesses with more than 100 employees. VOSS takes the time to ask the questions other agencies don't, and with access to a wide range of group insurance companies, we can pair you and your business with the best possible combination of price and coverage.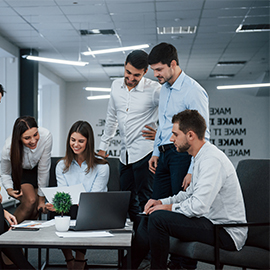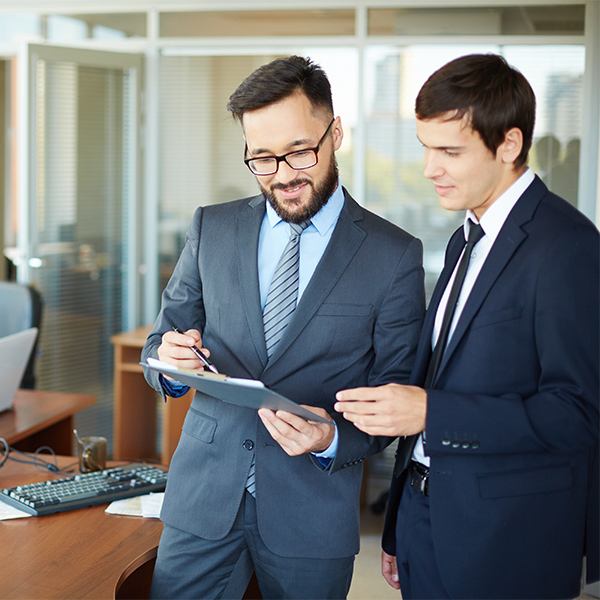 Benefits
The benefits of working with VOSS include:
A complimentary review of your current employee benefits plan.
Employee benefits options that will save money and enhance current benefits.
A comprehensive compliance review that identifies weaknesses and potential liabilities, and offers solutions to fix those gaps.
Monthly claims reports and plan usage analysis that help keep you on track for high renewal rates and potential refunds on premiums paid.
24/7 support for your in-house benefits administrator and employees.
customized solutions
VOSS offers customized solutions for
Testimonials
Client Reviews
I have had the pleasure of working with Vignesh for almost a year.

Coming into my role at oneservice, he proactively contacted me explaining our coverage and ways he thought we could improve the benefits offered to the employees. He continuously is looking for ways to help my company offer more benefits while working to get the most cost-effective options. He and his team are highly knowledgeable, communicate continuously, understand our unique needs of having employees all over the country not just in one location, and work to ensure my employees and I are kept well informed will any questions answered thoroughly and quickly. The support has been amazing! I would recommend Vignesh to anyone looking to work with a very professional, supportive underwriter who has not only the company's but the employees' well being in the front of his mind.

Jonathan Mensch
President North America at oneservice, Inc
I highly recommend working with Vignesh.

We engaged him four years ago to help us with our family financial planning. Vignesh has used various strategies and out of the box thinking to consolidate our financial assets and make our portfolio more manageable and organized. He always puts his client's interest first, and has been a reliable and tremendous asset for both our personal and business financial needs. If you or your company are looking to work with someone who is knowledgeable and has your best interest at heart, look no further.

Ramesh Balan
CEO and Founder at Knomadix
Vignesh is a detailed person,

He listen what his clients want and provide solution dynamically. Very responsive and reliable. I hired him and will hire him for my future insurance related services.

Arun Kumar
President & CEO of CAP Digisoft Solutions Inc./Flobile, John Maxwell Certified Speaker
We have worked with Vignesh for several years

And have been very happy with the service and knowledge he has. He and his team have provided us innovative solutions to help us to save a lot of money on our company health insurance while also helping us receive a refund of premiums for additional savings to our business.

Baku Kshartriya
President at ECOM Consulting, Inc